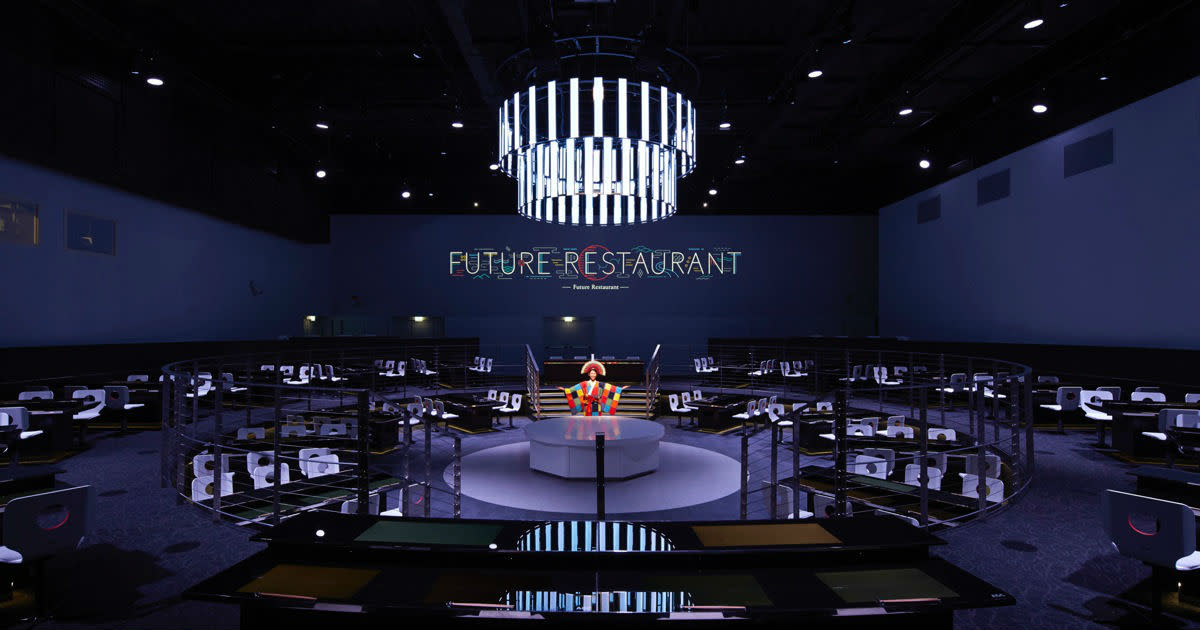 EXPO Milano 2015 Japanese Pavilion FUTURE RESTAURANT
MILANO EXPO 2015
May 01, 2015
Rhizomatiks Architecture provided creative direction for "Live Performance Theatre," pièce de résistance of the Japanese Pavilion's exhibition area. The installation ran at Expo Milano 2015 for a full six months between May 1st through October 31st, 2015.

Our work received the Expo's Gold Medal in the Exhibition Design Category. It was the first Gold Medal awarded to a Japanese Pavilion in its history of participating in International Registered Exhibitions (large-scale exhibitions held every five years).

Seiichi Saito served as creative director, Satoshi Horii served as technical director/programmer, Keitaro Shimizu served as creative producer, Tatsuya Takei served as programmer, Yoh Tanaka served as visual programmer, and Muryo Homma participated as videographer. As a team, Rhizomatiks was tasked with providing creative direction to craft the exhibition's complete aesthetic world.

To that extent, Rhizomatiks tapped into a deeply experienced pool of artists and creators, with whom we created an entertainment theatre experience that showcased technology as a vehicle to convey the joy of cuisine: Cast costumes were original designs provided by the stylist, Kumiko Iijima. Video direction by Eiji Tanigawa of the interactive production team TOKYO. Art direction/design by Kota Iguchi of CEKAI and Rei Ishii of TYMOTE. Lighting by Takayuki Fujimoto of DumbType. Music by HIFANA.

Live Performance Theatre Concept

The Live Performance Theatre served as the anchor in Scene V, a performative closing act taking center stage in the restaurant section of the Japanese Pavilion. Visitors seated at dining-style tables enjoyed seasonal Japanese imagery projected on screens along with their meal. Each media table featured touch screens controlled with "chopstick" touch pens, encouraging active visitor participation.

In addition to video imagery, visitors were also able to enjoy a musical-esque show incorporating song and dance. Highlighting the Pavilion's official theme of "Harmonious Diversity," the musical show articulated an acceptance of diverse cultural influences that coexistence in the Japanese dining milieu, and produced new fusion dishes such as the curry rice and rice burgers available for curious gourmands on the Pavilion's menu.
Credit
Client: JETRO
General Production: DENTSU INC.
Space Design: NOMURA Co. + Tanseisha Co.
Creative Direction: Rhizomatiks
Creative Director: Seiichi Saito (Rhizomatiks)
Technical Director/programmer: Satoshi Horii (Rhizomatiks)
Creative Producer: Keitaro Shimizu (Rhizomatiks)
Programmer: Tatsuya Takemasa (Rhizomatiks)
Visual Programmer: Yoh Tanaka (Rhizomatiks)
Videographer: Muryo Homma (Rhizomatiks)
Production Manager: Shun Aoki
Stylist: Kumiko Iijima
Video: TOKYO
Music: Toru Midorikawa, Mutsumi Hamano (Melody Punch), HIFANA,
Pianist: Akira Kosemura, Theme Song Arrangement: Yasuhiro Konishi et al.
Art Director/Designer: Kota Iguchi (CEKAI), Rei Ishii (TYMOTE)
Lighting: Takayuki Fujimoto (DumbType), Kenichiro Takahashi (Tokyo Butai Shomei Co., Ltd.)
Stage Director: Thaiz Bozano, Izumi Arakawa (Change Performing Arts srl)
Food Direction: Yoshihiro Murata, Ryohei Hayashi (Kikunoi Co., Ltd.)